All material on this site is Copyright by Dean Gardiner. No material from this site may be used in any form without express permission of the copyright owner.
Kettle Glass and Plate with Fruit
Here is my study of this work.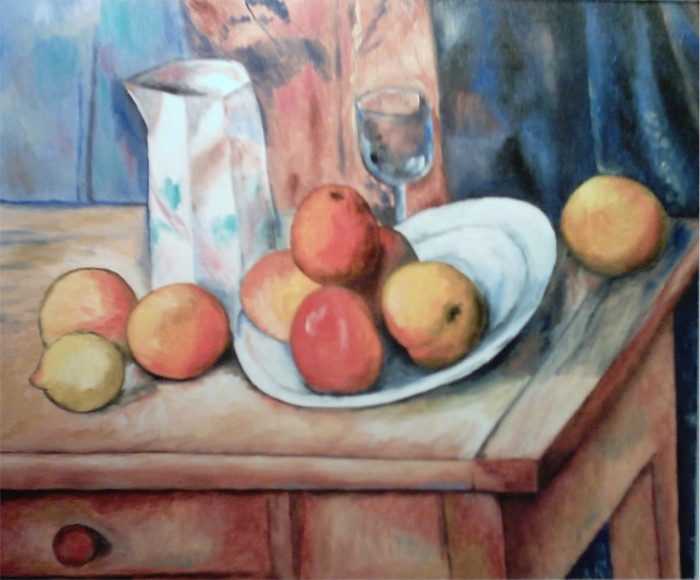 And this is what the original looks like.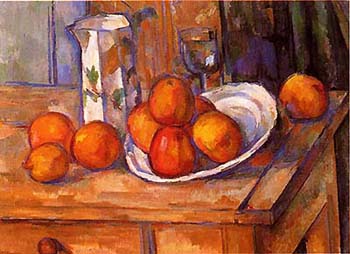 This is the other end of my pair of Cezanne bookends. This painting is the natural companion to Ginger pot with Pomegranates and Pears. They were both painted around the same time and they are both almost identical in size. And both paintings were once owned by Claude Monet and probably hung on the same wall at some time. This is also one of the first paintings that anticipated the later ideas explored through cubism.
My approach to this study was to ensure that I stuck to the primary colors and I tried not to mix any paint at all, either on the palette or the canvas. There are parts of this painting where it actually works really quite well. The use of primary colors ties the entire painting together.
So that was all that was really happening when I was painting this. I tried to model Cezanne's ideas of depth using primary colors. I did not abandon the use of black to represent tone, as this was meant to be a companion piece to Ginger pot and I wanted to tie them together using my own elements. Personally I found this work to be quite successful as it was very revealing how Cezanne used primary colors.